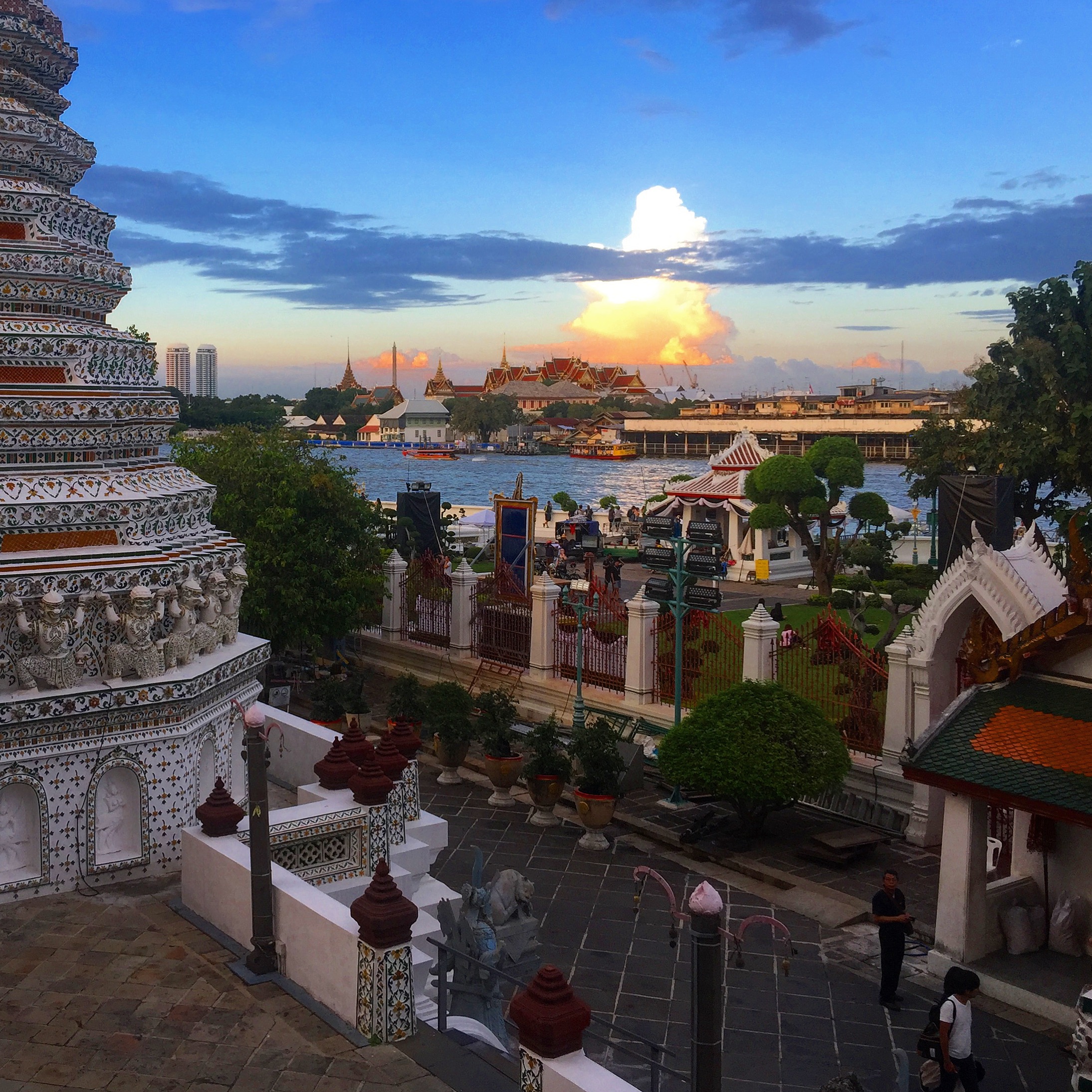 Experience the best of Bangkok in 24 hours
People say you should go to Thailand for their beaches, and they're not wrong…but you'd be missing out if you don't take a day to explore the country's capital.
I spent about 40 hours in Bangkok, having more than enough time to see the city. You could do it all in a day and with that in mind, I've broken things up into what you should do during the day, and night. If you have longer, take your time and enjoy the city. There are so many hidden gems.
Day time activities:
Take a Klong boat tour
I had a sweet sweet ride with these two lovebirds. But really, this is something to do just for the experience.
Tips:
It said it was going to thunderstorm as I ventured out but it never did (it said this both days I was in Bangkok and it didn't even rain at all).
The ride was VERY bumpy (take your motion-sickness drugs if you need 'em).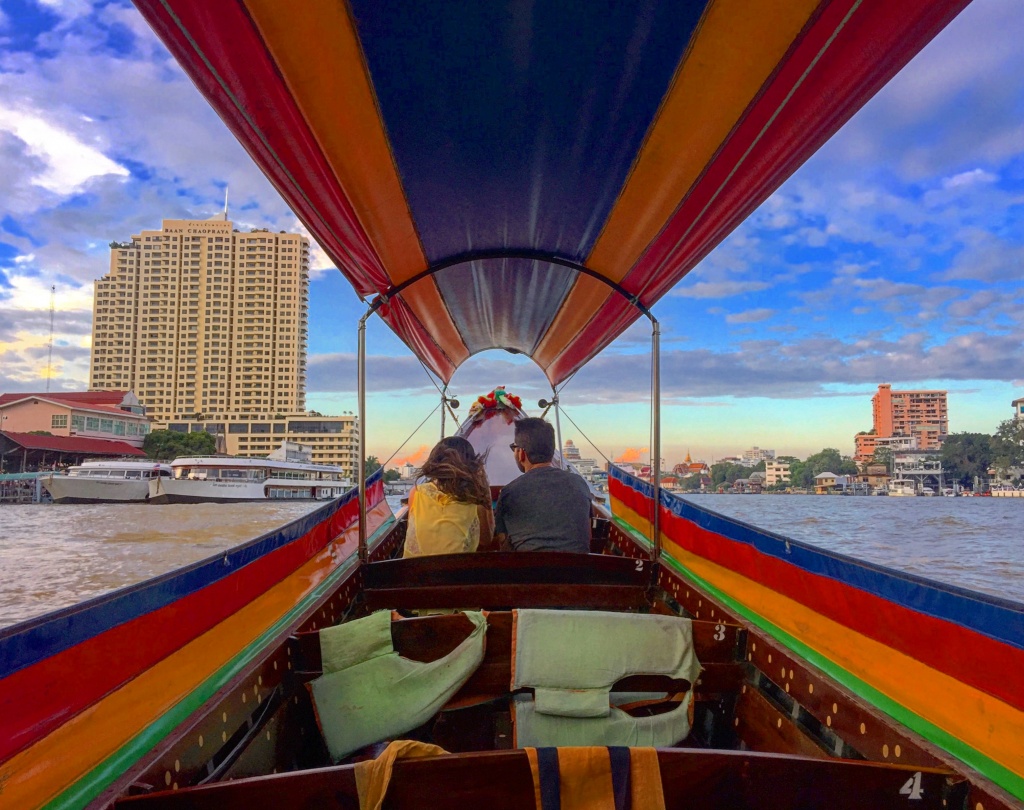 Walk around Wat Arun, the temple of dawn
Even though the name hints when you should visit…I spent dusk here, hence the bright light in the back of my photos. If you want to capture the true brilliance of Wat Arun, visit at dawn or during the day. Silly me. I loved it anyway.
Tips:
It's sometimes faster to get around by boat in Thailand. There are Klong boat tours and a river ferry with many stops along the way.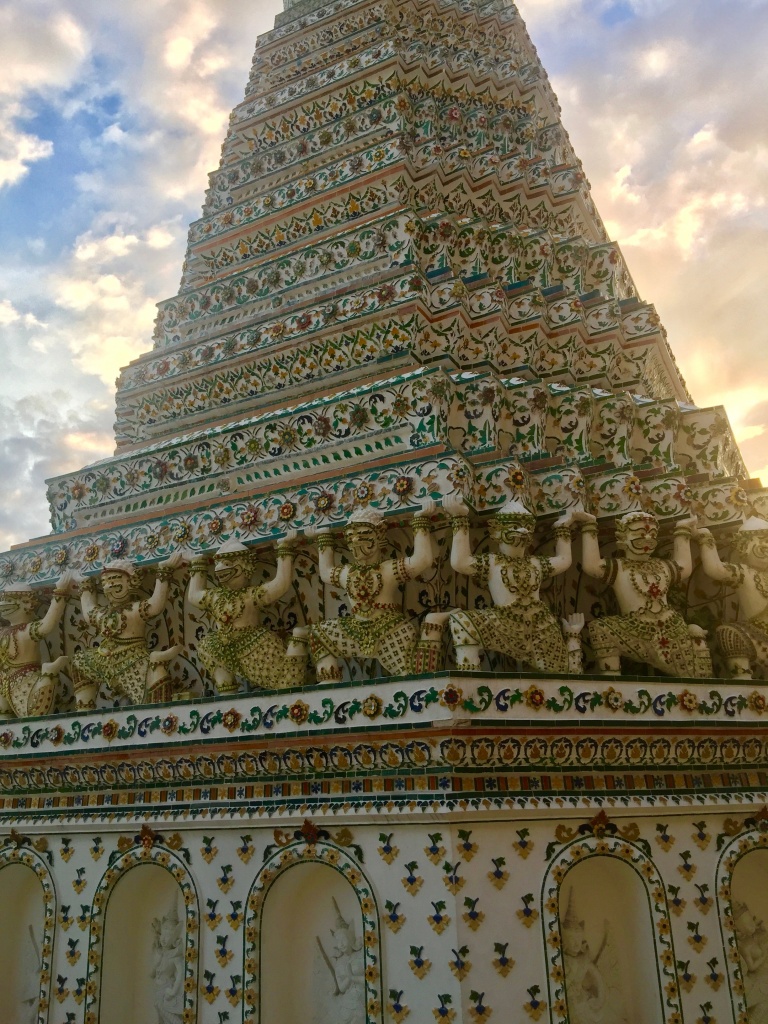 Grand Palace
The Grand Palace, beside Wat Prekeaw and Wat Pho, closes early. Despite showing up on two different days, I never went inside the grounds as there were special circumstances and other events given the recent death of king Bhumibol Adulyadej, their king that ruled for 70 years. Despite the 34 degree celsius weather, I wore all black, covering my shoulders and knees to pay respect in Thai culture. I was sweating buckets but noticed the appreciation of locals that were also paying their respect.
On day one in Thailand, I reached this spot with the elephants (the Grand Palace is in the background), where two nice women travelling from Italy offered to take my photo. I wondered around with them, swapping stories for a while afterwards. That was nice. It's incredible the people you get the opportunity to connect with when you're travelling solo.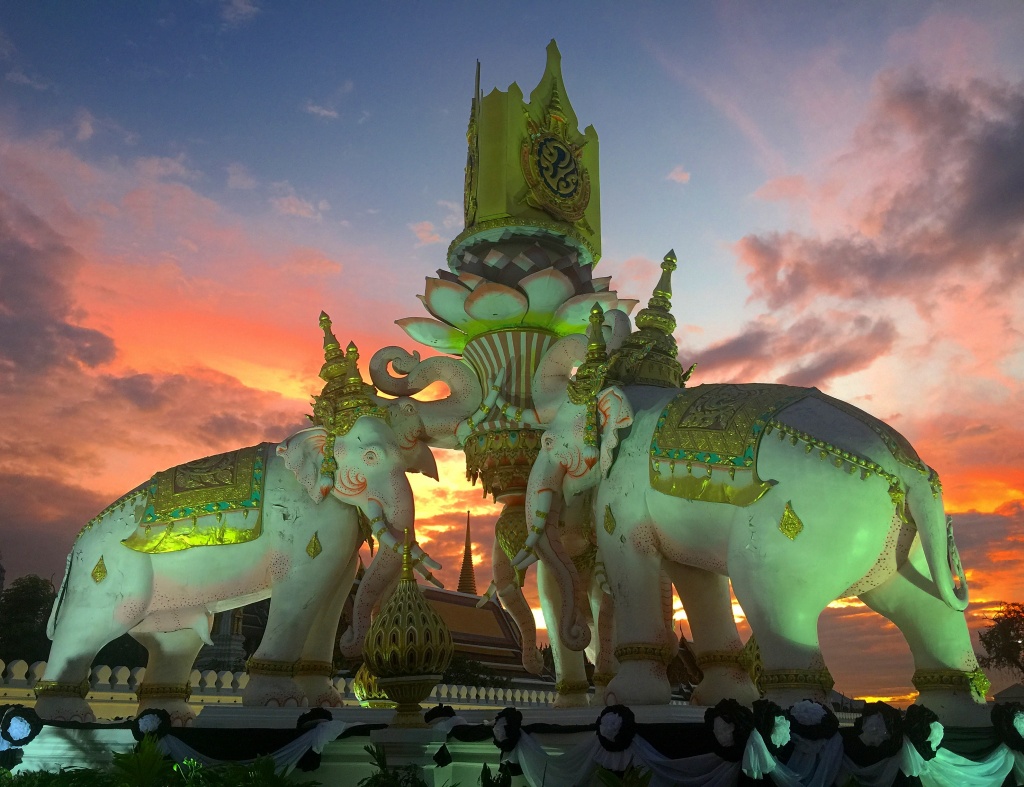 Wat Phra Kaew
I spent a while here just marvelling in the beauty of this place.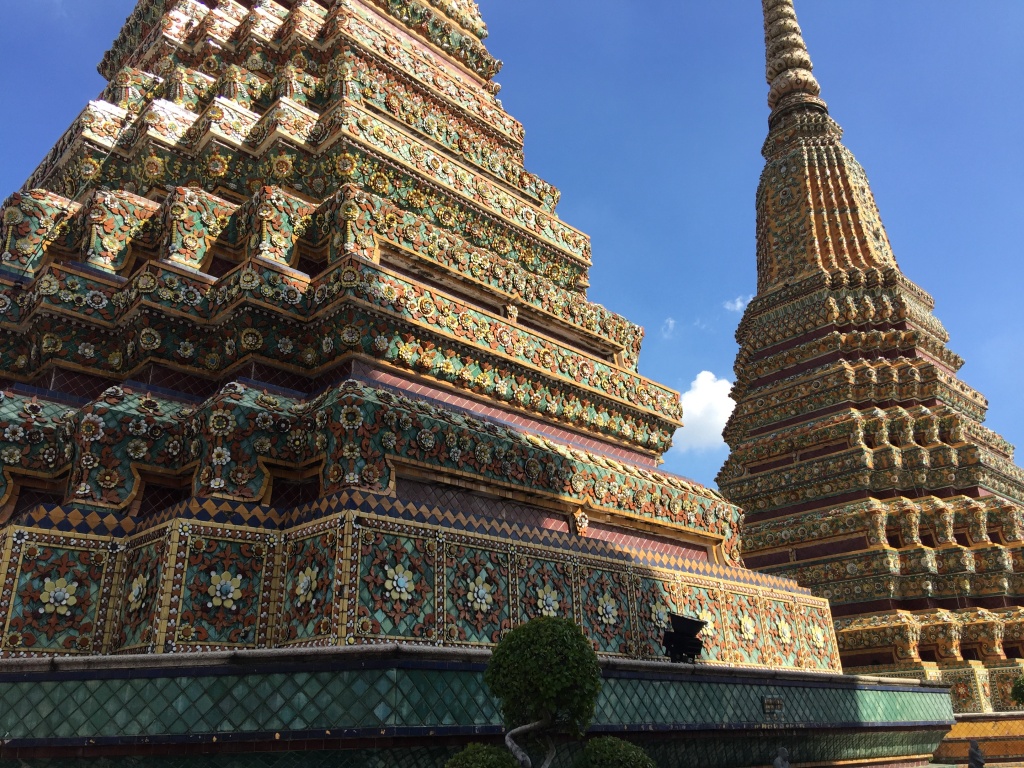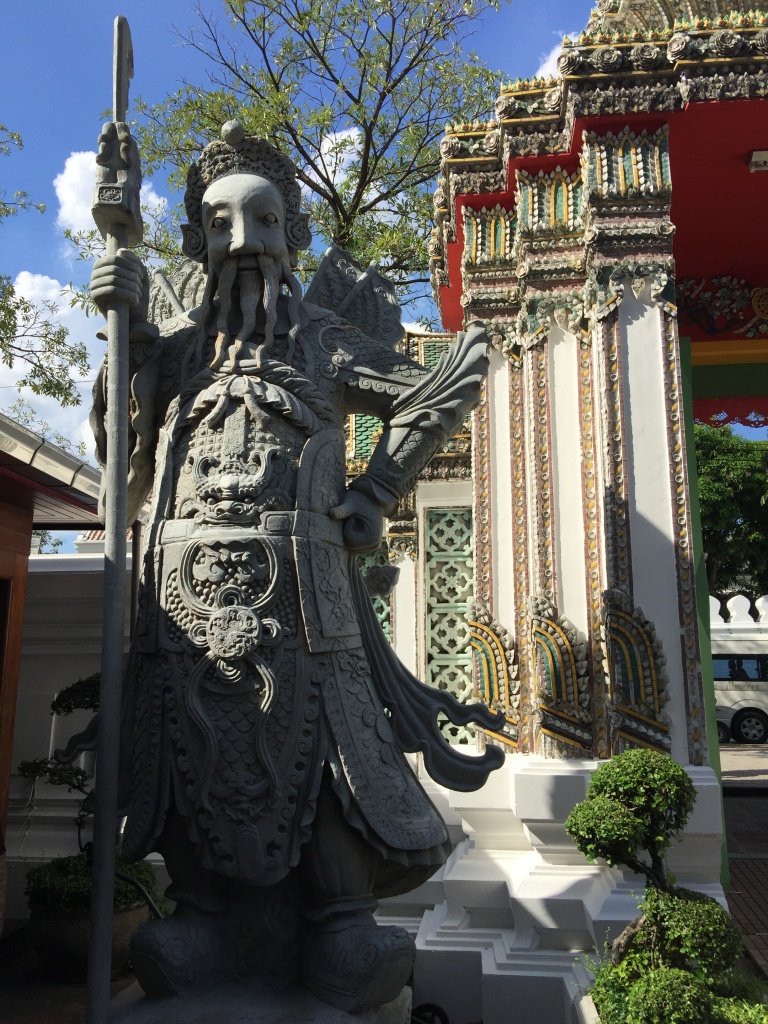 Wat Pho, temple of the reclining Buddha
Massive. Just massive.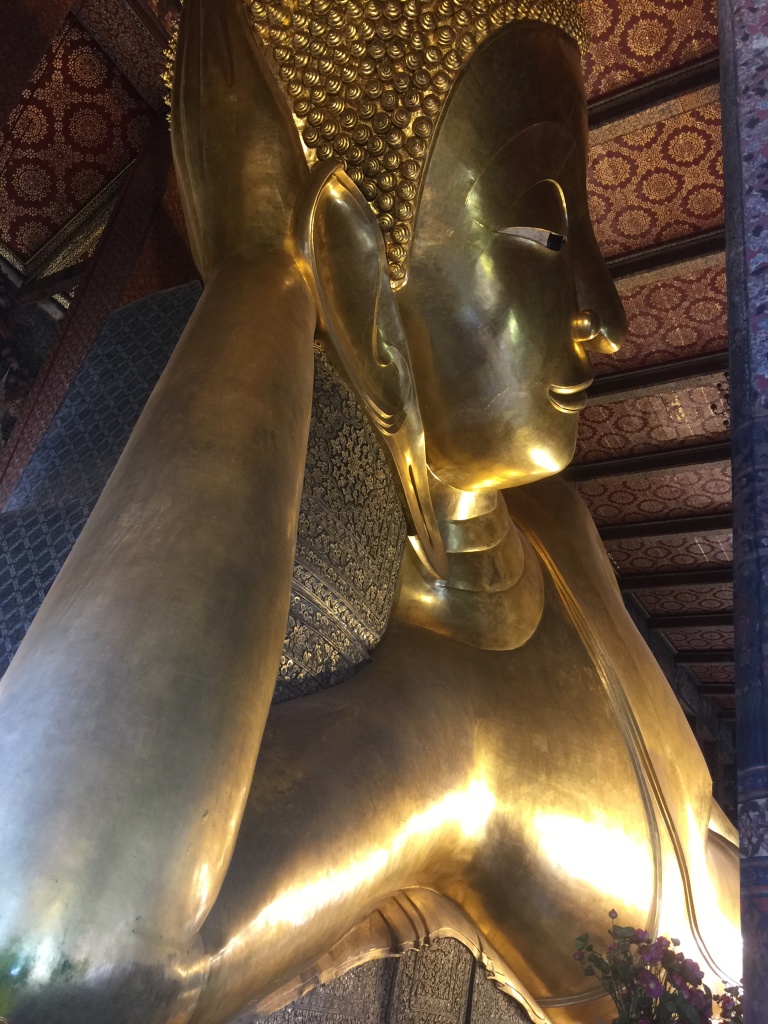 Asiatique the riverfront
I could have spent hours here shopping, dining and walking around. In fact, give yourself more time than you think you'll need. I whizzed through here so I could jet to the airport (and still miss my flight after sitting in two hours of Bangkok rush hour traffic…there was a festival that I didn't know about, bringing even more gridlock). Anyways, I was still able to get a new selfie stick and iPhone tripod at a popular Japanese dollar store within this market. Oh and about that missed flight, it only cost me $76 to book a new flight with a different airline and still get out that night. Flying is very cost efficient in Thailand.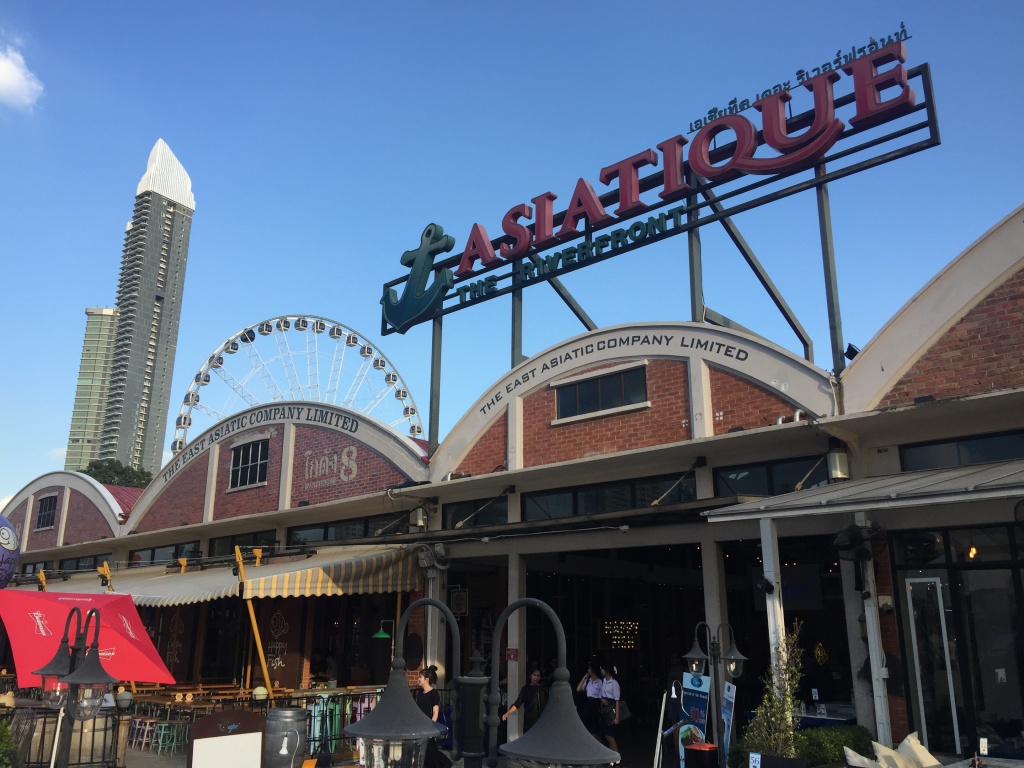 #Views: Bangkok from the sky
I stayed on the 73rd floor of the Baiyoke Sky Hotel. The only real reason to stay here is the view and good location. It's a very old hotel in dire need of renovations and updates. The room service menu, however, is quite spectacular. I took advantage of it one night when I arrived home too late for dinner on the 80th-something floor, as planned.
This view is from the 84th floor outdoor revolving deck.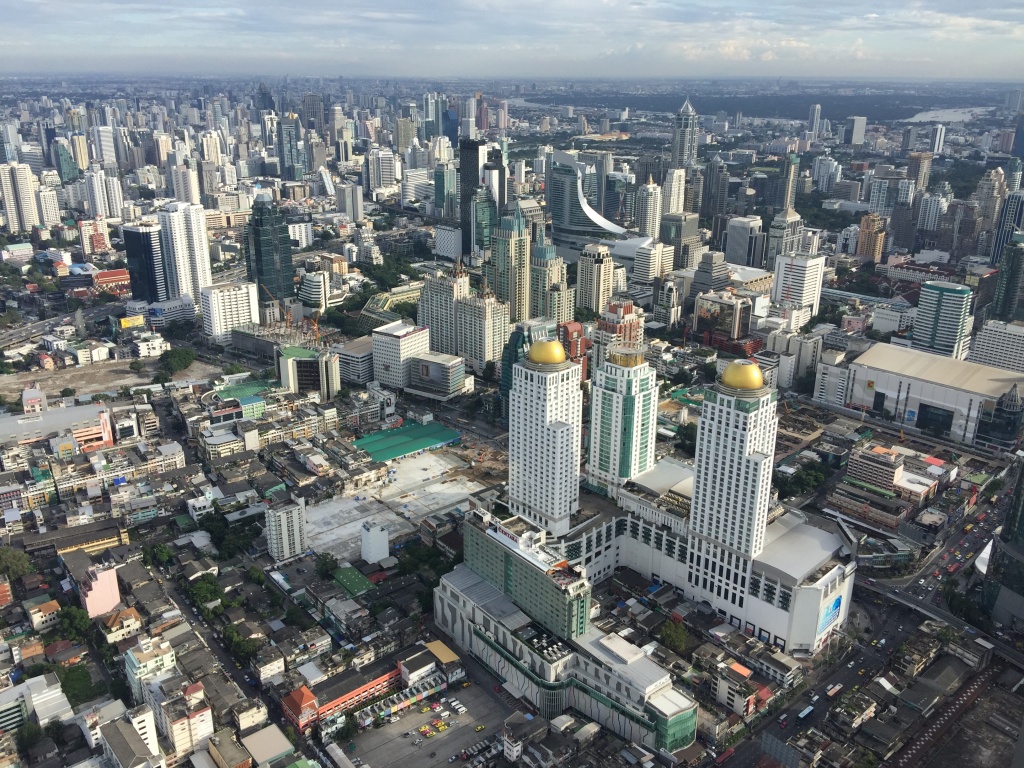 Eat Tom-Yum Kung soup for breakfast, lunch and dinner
I couldn't get enough. I really did eat it at every meal. If you like spice, this soup is for you.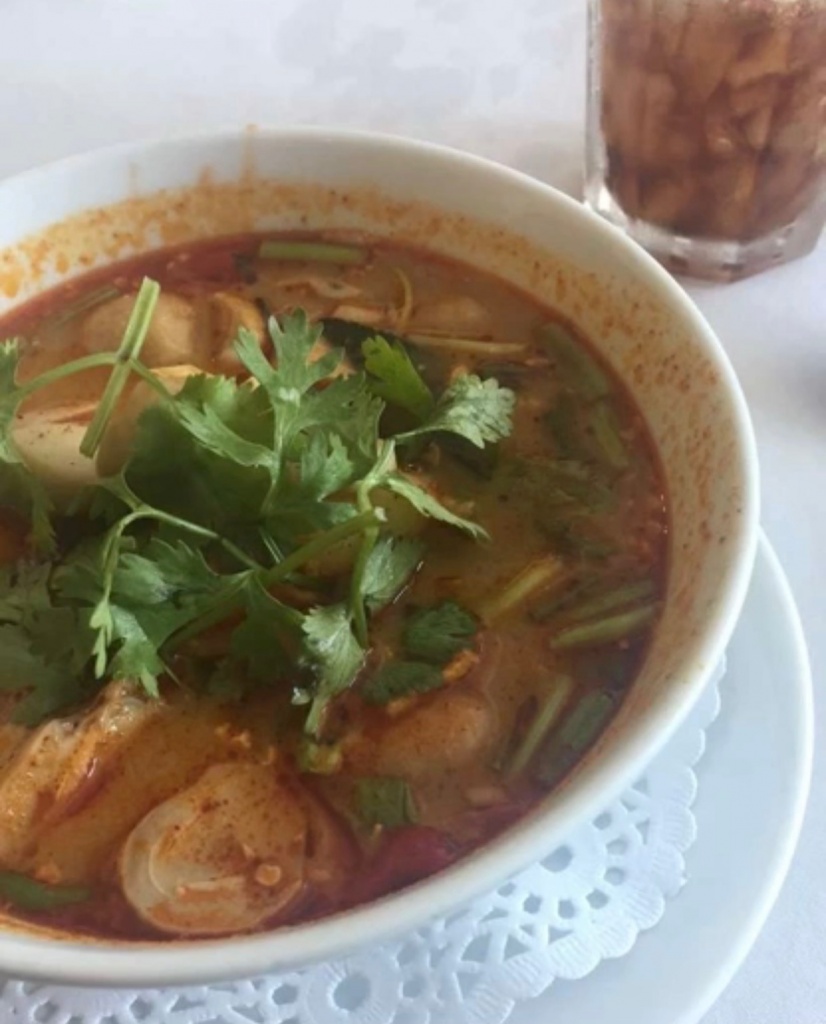 Night time activities:
Khao San Road night market
Grab dinner, get a massage and buy some clothes (Thailand is known for its textiles).
Tips:
Barter with those in the shops. Keep only what you want to pay in one pocket and get them down to that price. It makes it easier when you pull it out of your pocket noting, that's what you have…take it or leave it. Sometimes they'll call your bluff but most of the time, they'll take it and you'll be on your way with your new item.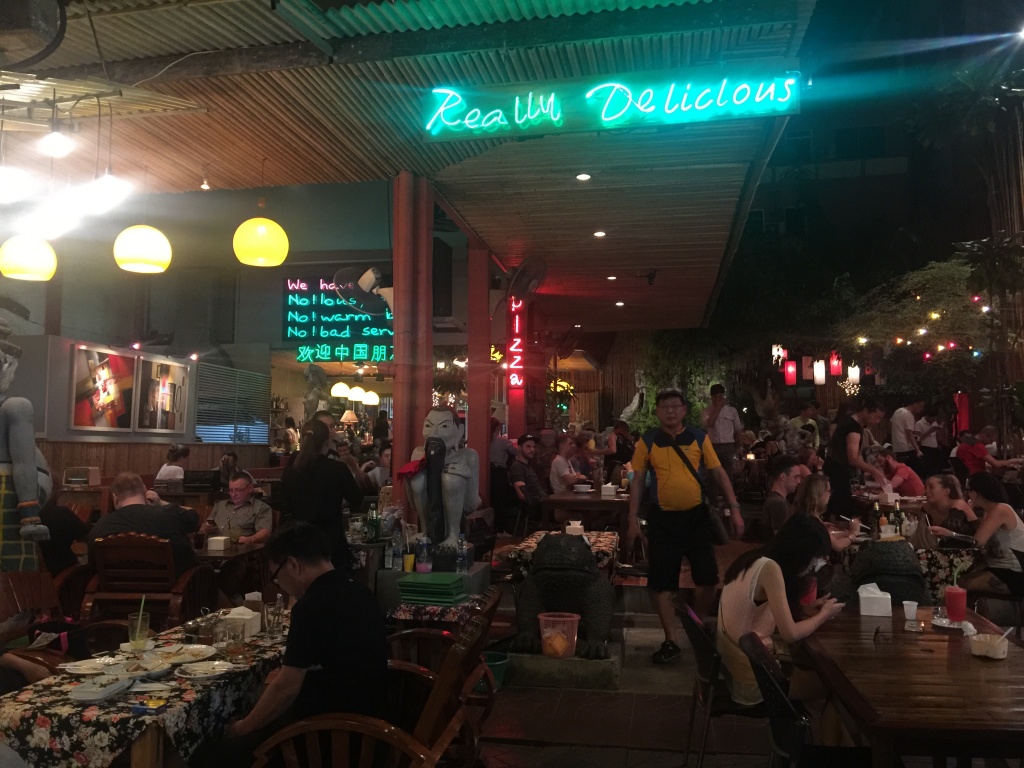 Rama Bridge
Near Rama bridge is a nice outdoor park. It's a relaxing and/or romantic spot to walk around.

Ride in a tuk tuk
Not for the faint of heart. Pretty sure I prayed or something while on this thing.
It went something like this:
*Please get me there safe and I'll never ride in a Tuk Tuk again.*
*An hour later I was riding in a Tuk Tuk again with 3 new friends.*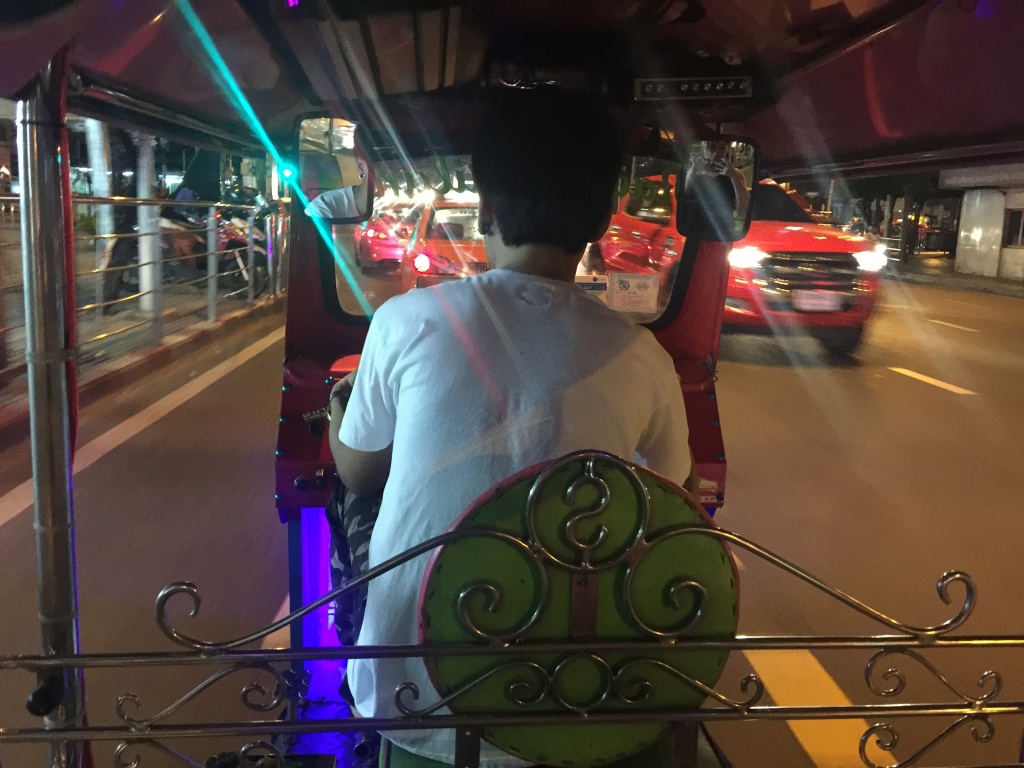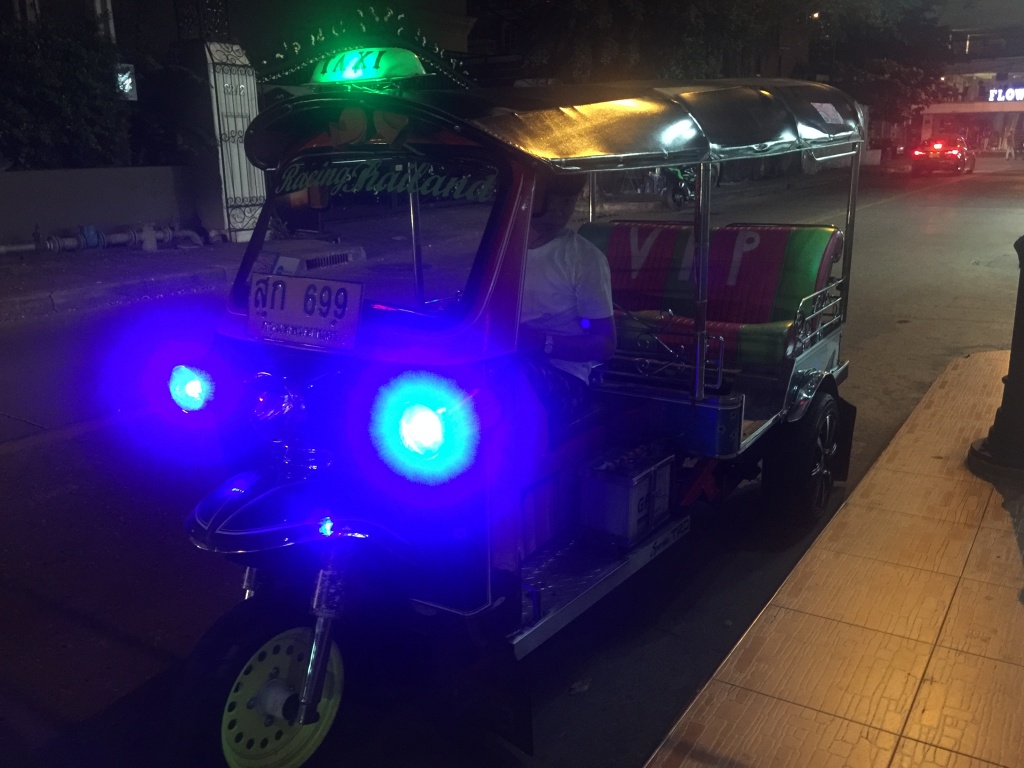 Visit a Speakeasy
This Cuban speakeasy was spectacular. The drinks are pricey (when you get used to how cheap Bangkok is, this really feels like a big splurge). However, I'm pretty sure that drink pictured below is one of the best drinks I've ever had in my life.
I nabbed the ingredients to the "Capitol Couture":
Vanilla & Turmeric Infused 42 Below Vodka, House Salted Caramel Syrup, Fresh Lime, Pimento Ginger Soda, Thai Chili Pepper, and Rock Salt.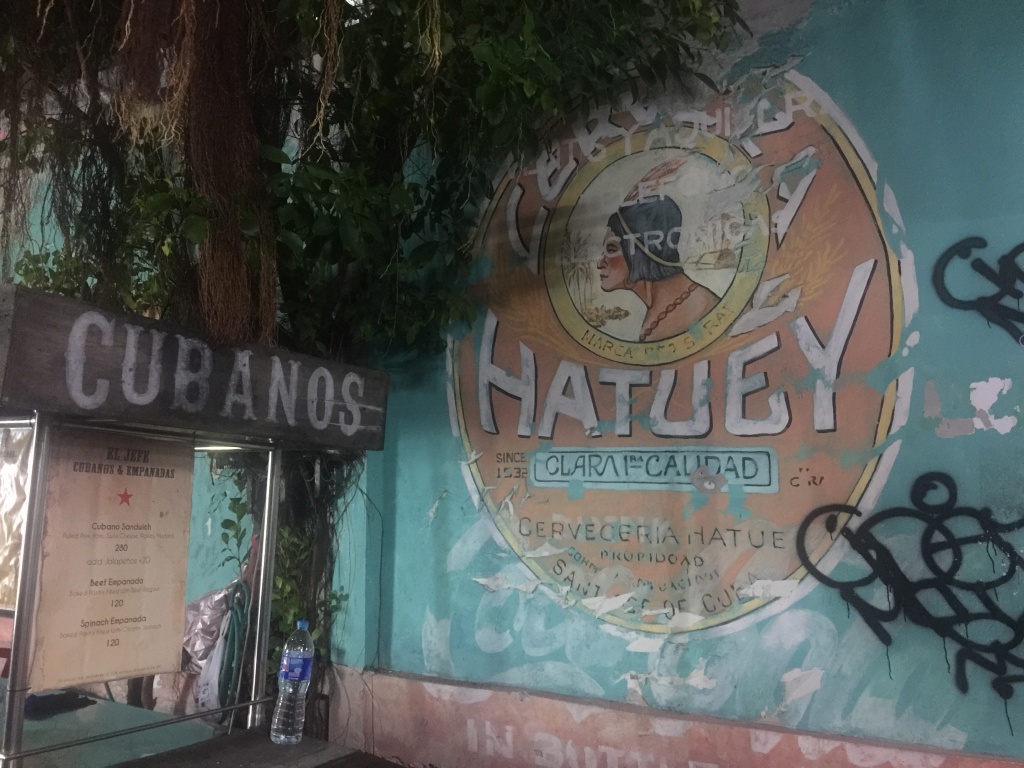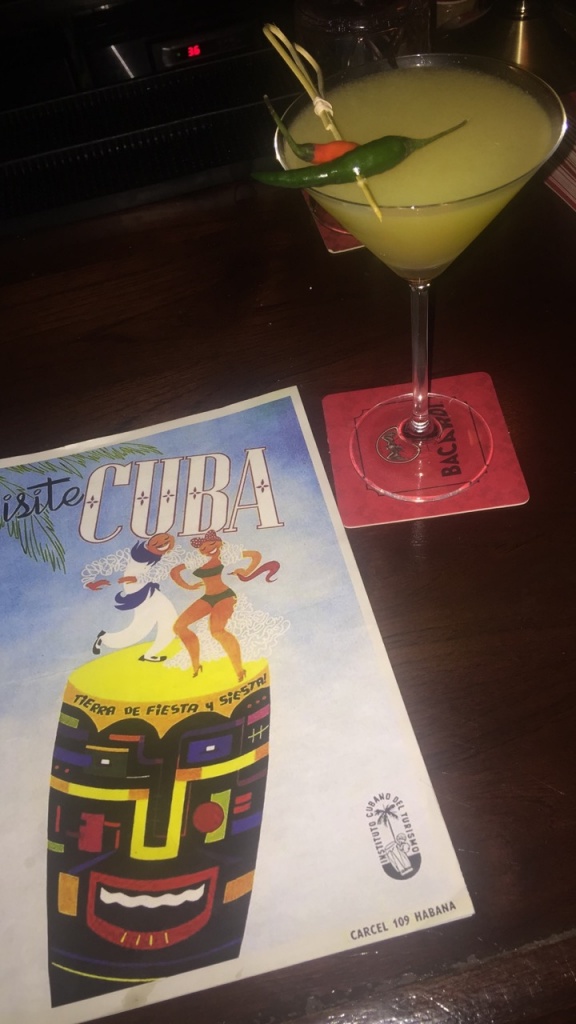 Dance the night away
I met some wonderful French Canadians (the first Canadians I met on my travels in Asia), and partied the night away with them.
This guy, with his cat ears, glasses and two phones made my night. What a gem.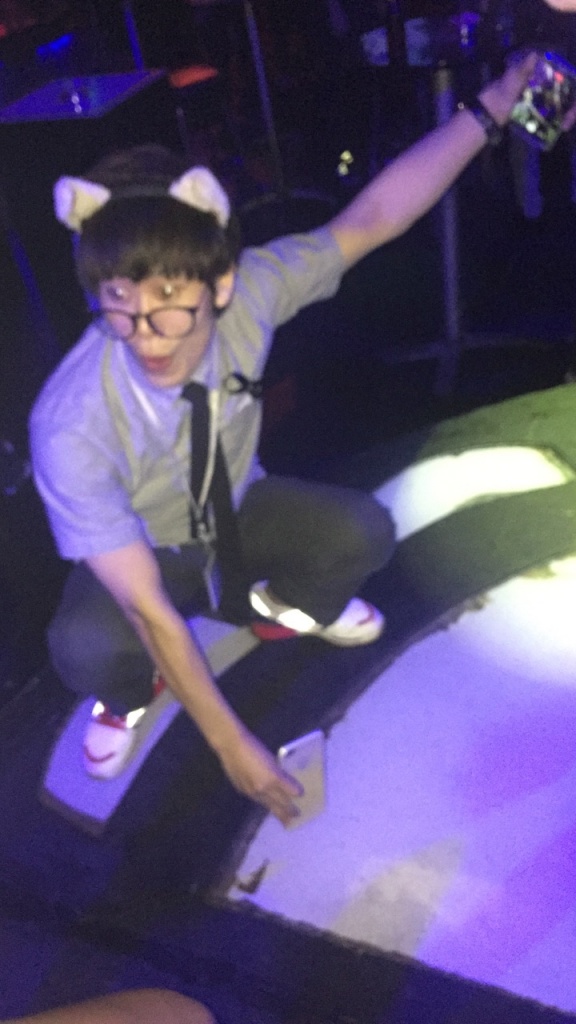 Enjoy Bangkok!
Been there? Add your favourite places in the comments below.
xoxo
G
Tags In